Optima RESTORE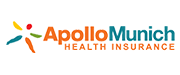 The new health plan from Apollo Munich, Restores your entire insurance amount without a charge if you exhaust it in the middle of the year.
Apollo Munich introduces a first of its kind, unique Restore benefit that automatically reinstates the basic sum insured in case you exhaust it in a policy year. Sure it sounds too good to be true but here is how it works: If you use up your coverage in your policy we will restore the entire sum insured at no extra charge. Hence ensuring coverage in case you fall ill with another illness or if any other family member falls ill later during the same insured period.
So, if you have a Rs. 5 lakhs policy and exhaust the entire amount, we will restore Rs. 5 lakhs, which you can use for some other illnesses or for any other member covered under the family floater policy, if needed. The coverage would be the accumulation of basic Sum Insured and accumulated Multiplier Benefit (if any).
Multiplier Benefit
In case you have a claim-free year it increases your insurance cover by 50% the first year and doubles it the year after, at no extra charge.

The amazing restore benefit also comes with a never before renewal incentive. If you've had a claim free year, we will increase your basic sum insured by 50% as a no claim bonus. If you don't claim even in the second year, we'll double your basic sum insured as a no claim bonus i.e. 100% of the basic Sum Insured.

So, if you have a 5 lakh policy and don't claim in the first year, we will increase your cover to 7.5 lakh for the second year and 10 lakh in the third year (if you dont claim in the second year), while you only pay a premium for a 5 lakh policy.
Others
| | | |
| --- | --- | --- |
| Optima Restore | : | is packed with a bunch of fantastic features that truly uncomplicate healthcare and make it a plan that genuinely cares for you. |
| Lifelong renewal | : | Renew your cover lifelong and stay covered forever. |
| No sublimit on room rent | : | With this health plan you can get the room you like and the treatment you deserve without a hassle. |
| Cashless transactions | : | Optima RESTORE enables you to get treated on a cashless basis across 4000 hospitals in over 800 cities. |
| No geography based sub-limits | : | No matter where you buy your policy you can get treated in any city or hospital you like in the country with no additional co pays or sub limits. |
| No claim based loading | : | We will never load your renewal premium because you claimed or fell ill after taking our policy. |
| Quick turnaround time | : | You don't have to worry about pre-authorization, 90% of pre-authorization is done within 2 hours. |
| Quick claim payment | : | When it comes to claim settlement, we're one of the fastest in the industry to honour every genuine claim. |
| Certified associates | : | When you deal with us you can be assured that all our field partners and sales executives are well trained. |
| Easy upgrade | : | This health plan also comes with an easy upgrade option. You can upgrade your cover to the next slab at the time of your policy renewal. |
| Tax benefits | : | You can avail tax benefits for the premium amount under Section 80 D of the Income Tax Act. (Tax benefits are subject to changes in tax laws.) |